Beverage Dispensing Systems
Spire 1.1
A bold, new way to serve.
The new Spire 1.1 features a polished new look with innovative beverage dispensing abilities all wrapped up in one amazing compact footprint. Spire 1.1. includes the most advanced customer-facing beverage dispensing software available in the market today. This cutting-edge technology delivers a unique interactive beverage customization experience for your customers.
Flexibility & Convenience
We believe in flexibility and convenience. Our Spire system holds up to 12 brands or flavors in both carbonated and non-carbonated formats. With our multi-flavor option, pour up to 3 flavors simultaneously.
Customize to Your Needs
Spire has a variety of configuration choices, including the ability to customize display videos, update the soda-to-flavor ratio, change the flavored water and soda buttons, disable the Flavor page, and much more. Sold-Out option available.
Additional Features
Spire features a flow rate of up to 2 ounces per second. Dual language support, recirculation capabilities, and remote options. A Nutritional Info page is available where required. Spire is ADA compliant.
Upgrades & Support
Upgrades for brand updates, flavor changes and software are easy using Spire's USB port. Pour data and system statistics may also be downloaded via USB. Internationalization is available.
Ready for the Internet of Things.
Enable your applications ecosystem to monitor the status, retrieve consumption data and remotely push new video contents (i.e marketing videos) to your Spire 1.1 units via Wunder-Bar's Global Dispensing Network (GDN) and APIs.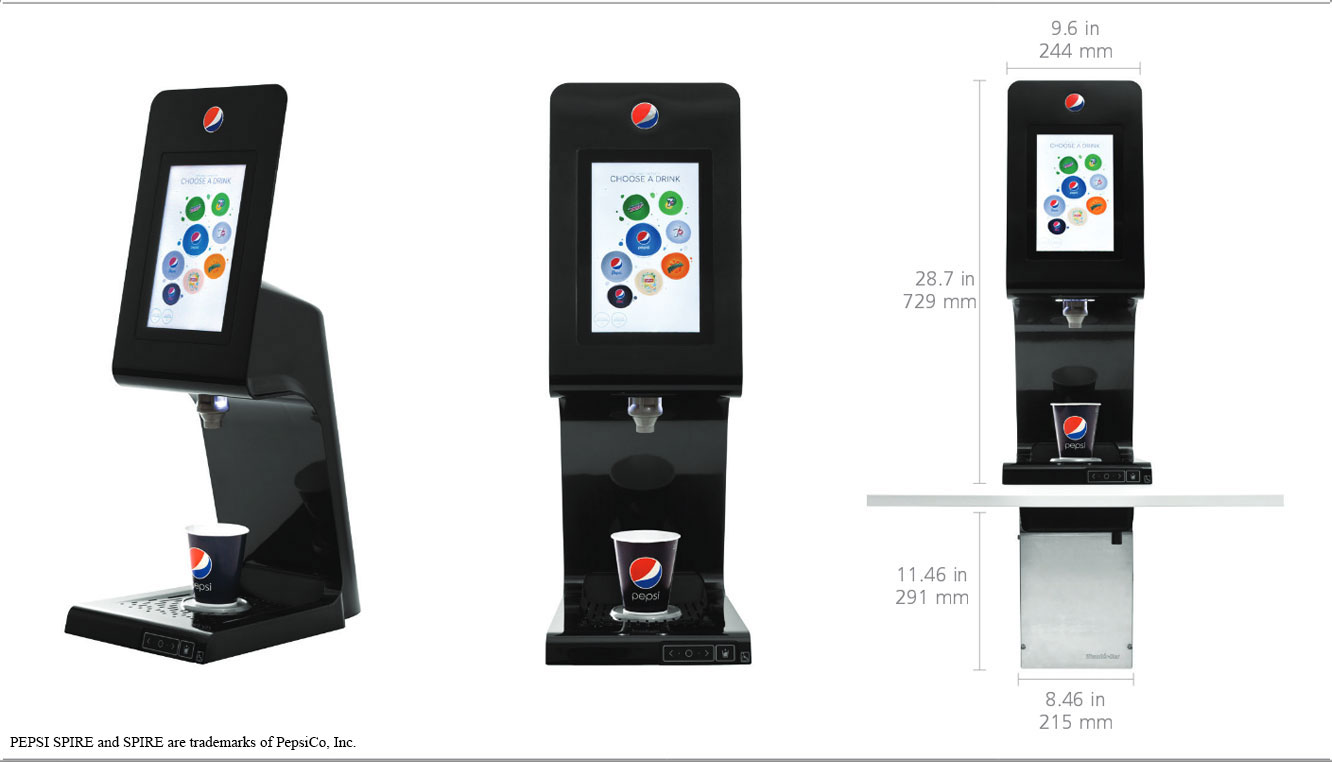 Features:
NSF Ceritifed
ETL Certified
CE Certified
RCM Certified
Low Lead Certified—Meets requirements of NSF/ANSI 372
City of Los Angeles
FCC and IC Approved
RoHS Compliant
ADA Compliant
Manufactured under one or more Patents and Patents Pending:
U.S. Pat. Nos. 8,251,087; 9,038,986; 9,271,604; 9,622,615; 9,588,608;
9,745,186; 9,896,322; 9,908,767;
D643,708; D648,420; D648,421; D656,001; D657,369; D657,370; D657,371; D647,785
UK Pat. No.: 2465083 China Pat. No.: 201280041660.3
EU Reg. Designs: 001796616 001, 002, 003, 004, 005